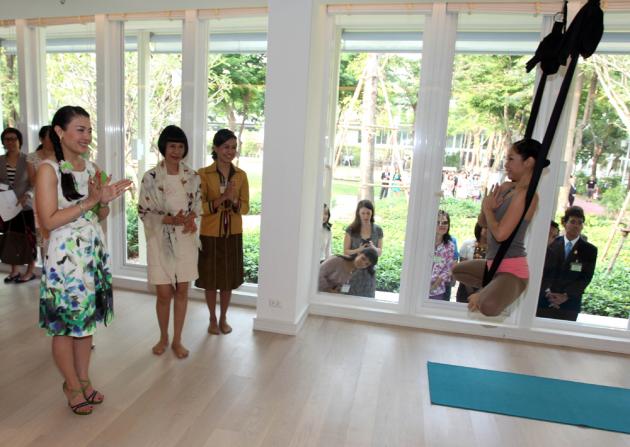 YogaFly by Patricia Duchaussoy has been successfully implemented at Sukhoyoga.
Her Royal Highness Princess Srirasmi has opened this beautiful yoga studio in a botanical wonderland owned by her father on Sukhothai Road.
Patricia and the Pilates Station are honored and proud to have provided the knowledge about Patricia's YogaFly method for this project.
The grand opening took the form of an elegant high tea with delectable sweets from Silpacheep 904, the royal shop adjacent. Sukhoyoga was crowded with dignitaries and celebrities, many of them yoga practitioners.
"Princess Srirasmi loves all kinds of yoga, and at the moment she enjoys Yoga Fly the most since it also helps build up muscle."
"One of the most important factors in ensuring good quality of life is being healthy in both body and mind," Princess Srirasmi says.
"A few years ago I found a path to good health in the practice of yoga, which helps improve the muscles, flexibility, metabolism and cardiovascular system. Now I'm providing a highquality yoga studio, which I have personally overseen and approved, for royal officials and the general public, to improve their health amid the beauty of nature at Sukhoyoga."