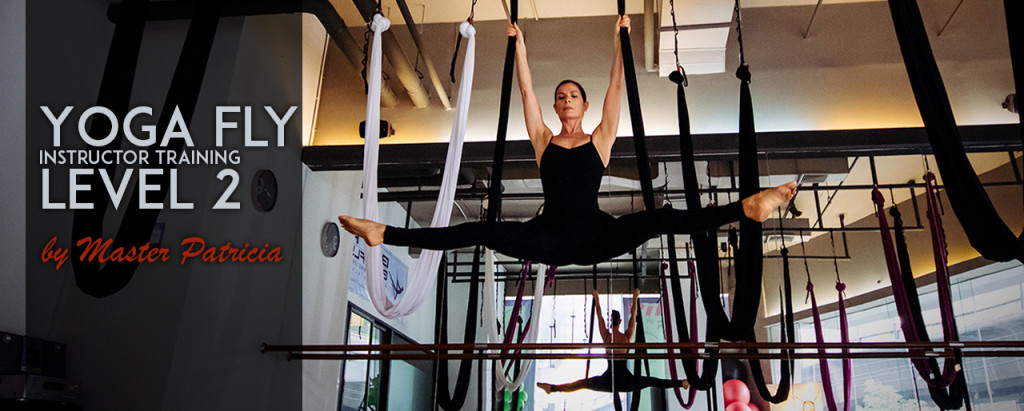 Professional Yoga Fly Instructor Training Level 2
Master Patricia Duchaussoy
November 16th – 19th, 2016 : 4 Days
Regular Price: THB 49,900 * Free Hammock : 1 set (8,900 ฿)
Duration: 4 days
Course language: English
Number of participants: Max. 15 participants.
Course Objectives: Body Fly Instructor Training Level 1 will provide you with the solid foundation and skills you need to teach beginners Body Fly Yoga classes. Ongoing practice after the instructor training is part of the process to become a certified instructor. All trainings are tailored to maximize study outcome by teaching you balanced portions of theory, practical experience and observation.
Course Fee:
Yoga Fly Level 1 – Professional Instructor Training : 49,900 THB
Yoga Fly Level 2 – Professional Instructor Training : 39,900 THB
Yoga Fly Level 1&2 – Professional Instructor Training :  79,900 THB * Free Hammock 1 set (8,900 ฿)

**** Early Bird 5% OFF
Pre requisites: This course is open to Yoga, Pilates, Fitness certified instructors and to any other person who can justify 2 years of continuous teaching in body movement. If you are not sure about your qualification, please send an email to [email protected] or call to 02 661 7468.
Certification: This course will enable you to become a Certified BFIA Level 1 Instructor. You will become part of the International Body Fly Instructor Community and have active registration in the BFIA International Online Network. After course completion and 25 hours practice teaching as well as practical examination, you will be awarded with the official BFIA Instructor Level 1 Certificate.